I have searched and searched for curtain rods that return to the wall like the one pictured in this picture below from Southern Living.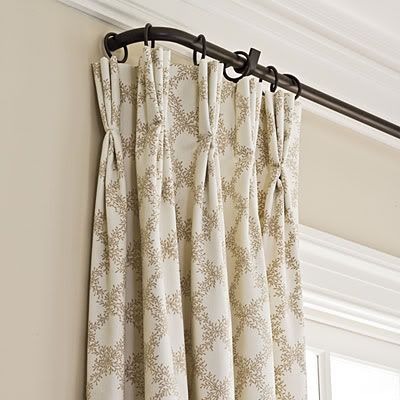 I have finally come across some that are ok, meaning that they will do but they are not exactly what I want.
This first one in black is from Country Curtains. It is the last place in the world that I would have ever looked if my Granny had not sent me their catalog. I couldn't believe that I had been looking for these for such a long time and they were in the "Country Curtains" catalog of all places, and only cost $23. The only problem or problems is the rod diameter was only 5/8".

This next one is from Amazon. It comes in 2 or 3 different finishes. It only costs $19. only prob is that they were out of the antique brass finish that I wanted and the rings to go with it were in a package of 10 for $17.99. I would have had to buy 2 packages. Finally, the rod diameter was 1/2". Smaller than I was loooking for.
This last one is the one that I ended up going with and it is from JC Penney. I went with this one for a couple of reasons. One reason is that it is on sale for $24.99, the rings that are made to go with it are on sale also for $14.99 for a package of 14 (usually a package has 7 for that price). Also, the other big reason that I went with this one was the diameter of the rod was 1.25", while all of the other rods were smaller in diameter.
There were other sources on the net for these rods but they were way way way out of my price range. They charged by the foot for the rod and $55 for the ends or more. Then you had to buy the brackets and rings which all add up quick.