The sofa below is my absolute favorite style of a couch. I would buy this one except we are looking for a sectional. Looking online last night, I realized that they had added new styles to their collections.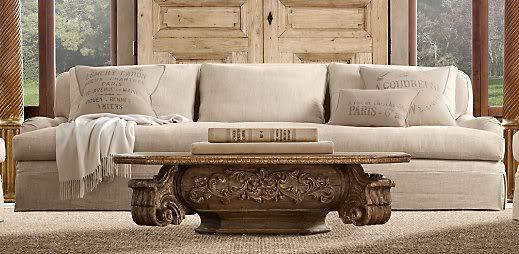 This style below is new. I was almost jumping up and down when I saw that they had added a sectional to the Belgian Classic roll arm collection here. This is perfect for what we want.
....but it doesn't stop there. I found several that I liked from RH. look how deep this one sits. It looks sooooooo cozy.
Does anybody have any experience with sofas from RH or have any advice on the quality?
I am going to go to RH this weekend and take a look. We currently have a sofa from Pottery Barn and we can't wait to burn it. The cushions are like bean bags that have no life left in them. My husband now thinks that all things from PB are bad. So, we are very cautious now when it comes to picking out sofas.
Images: Restoration Hardware