DON'T
If you are going to hang the bamboo blind above and outside the window frame then make sure it is wide enough to cover the window frame, not just the window. See how above you can see where the white trim around the window ends going up the side of the shade. That doesn't look good in my opinion. If they had closed the curtain to where it covered where the frame ends then it wouldn't be as bad.
DO
In this picture above (which has been around the web and back) you can see how they hung the blind all the way up to the ceiling and made it wide enough to cover the surrounding window frame. It looks good!

Again.... DO
Just like the last pic. The hung it all the way to the crown molding and covered the frame on both sides. It would just look funny to see the frame end on both sides of the shade 12" from the top yet the see shade go all the way up.
DON'T
I am all about bringing the curtains up to the ceiling to elongate the look but there does not need to be a big gap between the shade and the curtain rod.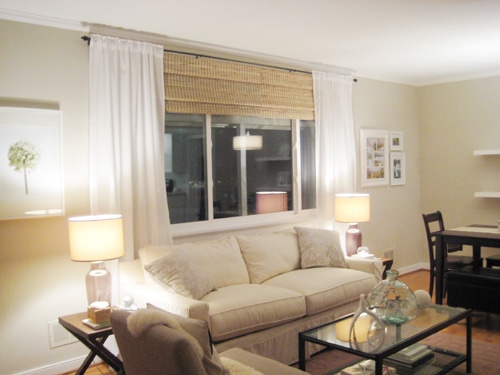 DO
This pic from Young House Love is another good example of what to DO. They hung the blind just under the rod and it looks good. Here is a picture of before they hung the blind and see how much better it looks without that space between the rod and window frame showing.